What did we learn? That counterfeiting money is not a crime. Maybe a misdemeanor but nothing that the police should/would bother themselves over.
That twice a lethal dose of Fentanyl with assorted accessory drugs on board a man dying means nothing.
That  substantial heart disease including a 90 percent blockage could not have played a roll.
That the police officer charged named Derek Chauven never was offered a defense. At most a forensic pathologist. The Medical Examiner who actually was a defense witness in truth. The prosecutor who brought in outside forensic pathologists to discount their own Medical Examiner.
The dream team prosecutors were not from the prosecutor's office but outside attorneys offering their services pro-bono with what appears to have been unlimited support resources. All save one who played a bit part so was reported.
An Expert for the defense that first offered themselves for the offense. Not one medical expert to rebut the hours of testimony from the prosecutor's bevies of five medical experts. Cardiologists, pulmonologists, toxicologists, two more Forensic Pathologists to overcome their own Medical Examiner. Most of them offering themselves free of charge for the most part because "it was an important case."
Weeks and weeks of prosecution testimony scrutinizing every inch of tape from every angle played over and over again. The defense? A couple of days.
A Defense attorney that by happen chance was Chauven's attorney. His name was on a list it was reported and it was "his turn" – no show defense team for this police officer. His only help was a recent law school graduate who sat in the background and said nothing. No one to even bring in the defense witnesses to the witness stand. No one to manage the computer exhibits.
I watched the trial gavel to gavel via HLN which happened to have an excellent panel of experts from which most of this information has be taken.
The autopsy report from Hennepin County Medical Examiner's Office concludes the cause of death was "cardiopulmonary arrest complicating law enforcement subdual, restraint, and neck compression." That conclusion, death due to heart failure, differs from the one reached by an independent examiner hired by the Floyd family; that report listed the cause of death as "asphyxiation from sustained pressure."
Yet post mortem he had an oxygen level of 98 percent~!!!!! An oxygen saturation of 95 to 100 percent is normal. 
NOTE: Contributing factors.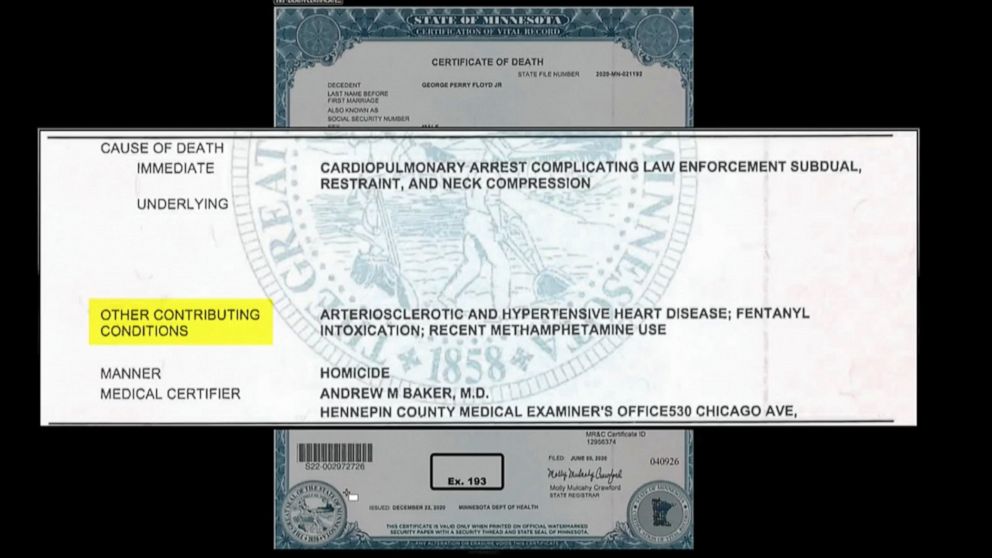 Signed by Dr. Andrew M. Baker, it says Floyd had tested positive for the novel coronavirus on April 3. A post-mortem nasal swab confirmed that diagnosis. The report notes that because a positive result for coronavirus can persist for weeks after the disease has resolved, "the result most likely reflects asymptomatic but persistent … positivity from previous infection."

In addition to fentanyl and methamphetamine, the toxicology report from the autopsy showed that Floyd also had cannabinoids in his system when he died.

Floyd also had heart disease, hypertension and sickle cell trait — a mostly asymptomatic form of the more serious sickle cell disease, an inherited blood disorder that primarily affects African Americans.
If you want to know more than CNN is telling you … 20 pages in length.
https://www.hennepin.us/-/media/hennepinus/residents/public-safety/documents/floyd-autopsy-6-3-20.pdf
VI. Toxicology (see attached report for full details; testing performed on antemortem blood specimens collected 5/25/20 at 9:00 p.m. at HHC and on postmortem urine) A. Blood drug and novel psychoactive substances screens: 1. Fentanyl 11 ng/mL 2. Norfentanyl 5.6 ng/mL 3. 4-ANPP 0.65 ng/mL 4. Methamphetamine 19 ng/mL 5. 11-Hydroxy Delta-9 THC 1.2 ng/mL; Delta-9 Carboxy THC 42 ng/mL; Delta-9 THC 2.9 ng/mL 6. Cotinine positive 7. Caffeine positive B. Blood volatiles: negative for ethanol, methanol, isopropanol, or acetone C. Urine drug screen: presumptive positive for cannabinoids, amphetamines, and fentanyl/metabolite D. Urine drug screen confirmation: morphine (free) 86 ng/mL
Detailed Findings: Analysis and Comments Result Units Rpt. Limit Specimen Source Analysis By Caffeine Positive mcg/mL 0.20 001 – Hospital Blood LC/TOF-MS Cotinine Positive ng/mL 200 001 – Hospital Blood LC/TOF-MS 4-ANPP 0.65 ng/mL 0.10 003 – Hospital Blood LC-MS/MS 11-Hydroxy Delta-9 THC 1.2 ng/mL 1.0 001 – Hospital Blood LC-MS/MS Delta-9 Carboxy THC 42 ng/mL 5.0 001 – Hospital Blood LC-MS/MS Delta-9 THC 2.9 ng/mL 0.50 001 – Hospital Blood LC-MS/MS Methamphetamine 19 ng/mL 5.0 001 – Hospital Blood LC-MS/MS Fentanyl 11 ng/mL 0.10 001 – Hospital Blood LC-MS/MS Norfentanyl 5.6 ng/mL 0.20 001 – Hospital Blood LC-MS/MS Cannabinoids Presump Pos ng/mL 50 012 – Urine EIA This test is an unconfirmed screen. Confirmation by a more definitive technique such as GC/MS is recommended. Amphetamines Presump Pos ng/mL 500 012 – Urine EIA This test is an unconfirmed screen. Confirmation by a more definitive technique such as GC/MS is recommended. Fentanyl / Metabolite Presump Pos ng/mL 2.0 012 – Urine EIA This test is an unconfirmed screen. Confirmation by a more definitive technique such as GC/MS is recommended. Morphine – Free 86 ng/mL 25 012 – Urine LC-MS/MS Other than the above findings, examination of the specimen(s) submitted did not reveal any positive findings of toxicological significance by procedures outlined in the accompanying Analysis Summary. Reference Comments: 11-Hydroxy Delta-9 THC (Active Metabolite) – Hospital Blood: 11-Hydroxy Delta-9 THC is an active intermediate metabolite of tetrahydrocannabinol (THC) the active component of marijuana. Usual peak levels: Less than 10% of THC levels after smoking. 1. 4-ANPP (Despropionyl fentanyl) – Hospital Blood: 4-ANPP (despropionylfentanyl) is a precursor chemical used in the production of fentanyl and is also a fentanyl metabolite. It may be used in the production of other related compounds such as acetyl fentanyl, butyryl fentanyl and furanyl fentanyl and may be a metabolite of these and other fentanyl-related compounds. It is considered to be pharmacologically weak. 2. Amphetamines – Urine: Amphetamines are a class of central nervous system stimulant drugs, with some therapeutic uses, and a high potential for abuse. This result derives from a presumptive test, which may be subject to cross-reactivity with non-amphetamine related compounds. A second test is necessary to confirm the presence of amphetamine related compounds.
Autopsy:
NECK: Layer by layer dissection of the anterior strap muscles of the neck discloses no areas of contusion or hemorrhage within the musculature. The thyroid cartilage and hyoid bone are intact. The larynx is lined by intact mucosa. The thyroid is symmetric and red-brown, without cystic or nodular change. The tongue is free of bite marks, hemorrhage, or other injuries. The cervical spinal column is palpably stable and free of hemorrhage.
Heart: ……….Cross sections of the vessels show multifocal atherosclerosis, with 75% proximal and 75% mid narrowing of the left anterior descending coronary artery; 75% proximal narrowing of the 1st diagonal branch of the left anterior descending coronary artery; 25% proximal narrowing of the circumflex coronary artery; and 90% proximal narrowing of the right coronary artery. 
SPECIAL PROCEDURES: Incision and subcutaneous dissection of the anterior and lateral aspects of the wrists demonstrates no foci of contusion or hemorrhage deep to the skin on the right. In the left wrist, there is multifocal fascial hemorrhage, with approximately 3 mL liquid blood accumulation, in the tissue surrounding the flexor tendons. The exposed wrist musculature itself appears free of injury. An incision from the back of the head to the lower back, extending onto both buttocks, is dissected subcutaneously to the lateral aspects of the neck, the shoulders, and flanks. No areas of subcutaneous hemorrhage, soft tissue contusion, or other occult injury are found in the posterior neck, right and left lateral neck, shoulders, back, flanks, or buttocks.
Finally most importantly George Floyd's oxygen level at the hospital was 98 percent! Post Mortem. How was it that  he could have a normal oxygen level after being transported "flat lined" to the hospital and yet the cause of death been asphyxiation?
The movie "Fargo comes to mind. Over what? A little bit of money. 
A counterfeit bill and a man who resisted arrest.
And the jury dutifully rendered their righteous verdict. Guilty. On all three counts??  Floyd? Oh he would have been dead in a couple of months probably anyway.  Gotten caught up in a drug deal. Overdosed. A cardiac arrhythmia. A heart attack.  A long long history of drugs and in March an overdose.
Now? The thin blue line grows thinner. Calls to nationalize the police. Derek Chauven?… how long will he last in prison?
The United States of America convulses in the death throes.