A little noticed federal task force has big plans for the National Archives. "Reimagining" can include the Capitol Rotunda. If we thought taking out some statutes and renaming streets and schools, your imagination isn't grand enough. Warnings on our founding documents are now in place. Time to move on to structural issues.
Jonathan Turley gives us the low down and a good read:
We are living in the age of reimagination. We are not reducing police, we are "reimagining policing" … not "packing" the Supreme Court but "reimagining justice" … not embracing media bias but "reimagining journalism" … not embracing censorship but "reimagining free speech."
Conversely, the lack of such imagination can be a career-ending flaw. As a result, many remain silent rather than question the need for the revisions that come with "reimagination."
That dilemma was evident as a federal task force recently issued a call to "reimagine history" at the National Archives, including adding warnings to protect unsuspecting visitors before they read our founding documents. We are reimagining ourselves out of the very founding concepts that once defined us. Reimagining the founding documents comes at a time when many are calling to "reimagine the First Amendment" and other constitutional guarantees.
National Archivist David Ferriero created a racism task force for the National Archives after last summer's protests over the killing of George Floyd in Minneapolis. Such task forces are created with the expectation that they will find problems, and — once recommendations are made — objecting to "anti-racist" reforms can easily be misconstrued as being insensitive or even racist.
For example, for many of us, the National Archives' Rotunda – containing the Declaration of Independence, the Constitution and the Bill of Rights – is a moving, reverential place celebrating common articles of constitutional faith. That is not what the task force members saw.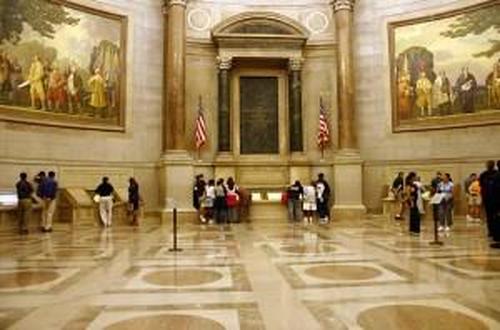 Instead, they declared that the iconic Rotunda is one of three examples of structural racism: "a Rotunda in our flagship building that lauds wealthy White men in the nation's founding while marginalizing BIPOC, women, and other communities." They called for "reimagining" the space to be more inclusive, including possible dance and performance art. Even the famous murals in the Rotunda might have to go: The task force noted that some view the murals as "an homage to White America."
The report objected to the laudatory attention given white Framers and Founders, particularly figures like Thomas Jefferson. It encouraged the placement of "trigger warnings" to "forewarn audiences of content that may cause intense physiological and psychological symptoms."
Maybe something like this in the Rotunda? Back in the waning halcyon days of Obama
Local D.C. drag queen Shi-Queeta Lee was invited to perform and mother served the kids some Tina Turner tease, performing (and dropping into a split for) "Proud Mary." Shi-Queeta may have been the first drag queen to perform at The White House, though honestly, who knows what J. Edgar Hoover was doing on the weekends.
The briefing was live-streamed on whitehouse.gov, but in case you missed it, Ms. Lee shared the video of her performance for the world to enjoy and kick a leg up to
:
We already have moved on Statuary Hall
In another politically correct move, Statuary Hall located  in the Capitol will be having a new look. No doubt in a move to highlight the cultural phenomenon that changed Arkansas. Out go supposedly Confederate Statute fellows replaced with musician types. Johnny Cash is coming to Statuary Hall
Johnny Cash? Really?
The best of the swamp today.