Nine Billion more bucks will be spent that was approved in the November infrastructure bill for more of this electric bus fiasco. Once you have all these free buses from the government, just wait for the expenses to maintain them coming down the pike. Get on the horn with your local school board.
To set the stage, we have our gal Harris out on the stump gushing on the wonders of the new bus technology.
Here we go:
Michigan's fourth-largest school district is having "significant" performance issues with its expensive electric buses, issues that come after the Biden administration spent $1 billion to "transform America's school bus fleet" with electric models.
During an April 19 presentation to the Ann Arbor Public Schools Board of Education, the district's environmental sustainability director, Emile Lauzzana, highlighted a number of issues with the district's electric bus fleet. Those buses, Lauzzana said, have "a lot of downtime and performance issues" and aren't "fully on the road," despite the fact that they are "approximately five times more expensive than regular buses."
The infrastructure upgrades required to use the buses, meanwhile, were "originally estimated to be only about $50,000" but "ended up being more like $200,000," according to Lauzzana. "I have a number of colleagues in different states who are facing similar challenges," the district official lamented. "For the school bus market, it's been challenging for us."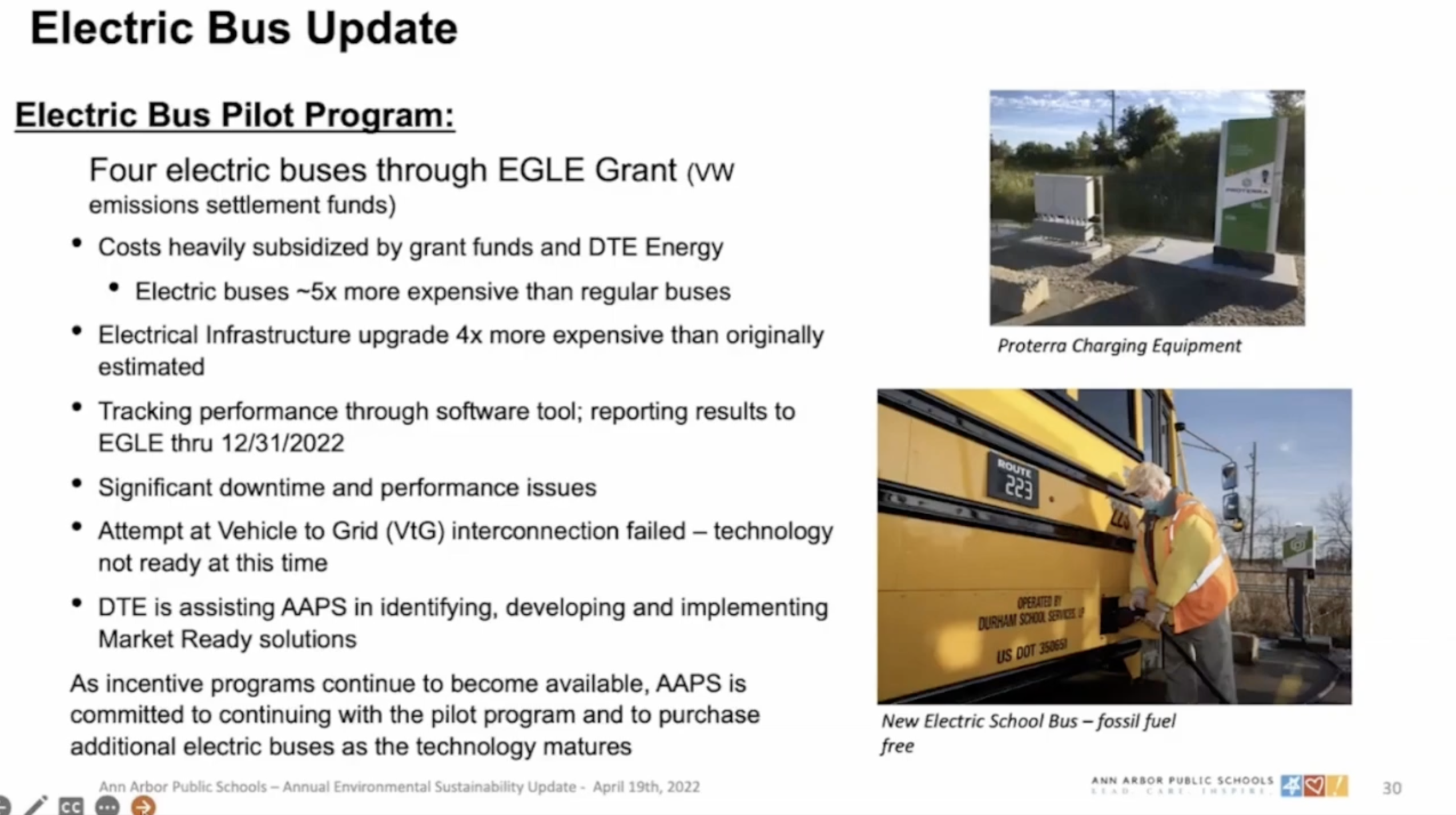 …….
Electric bus company Proterra, which the Biden administration has lauded as "pretty amazing," saw Philadelphia remove 25 of its buses from the roads in 2020 due to structural problems. Those buses cost the city $24 million. Another Southern California city waited months in 2021 to repair nearly a dozen buses from its electric fleet, more than a third of which were out of service at the time. Ann Arbor Public Schools' electric buses also use Proterra batteries and drivetrain technology.
Still, those issues did not stop Biden from setting aside $9 billion for electric school buses and local transit vehicles in the Democrat's November 2021 infrastructure bill. Biden is also not the only prominent Democrat who is spending big on "clean" buses. Michigan Democratic governor Gretchen Whitmer plans to create a $150 million electric school bus program through her 2024 state budget. Even Ann Arbor Public Schools is refusing to step away from electric buses—Lauzzana during his April presentation said the district is committed to purchasing "additional electric buses," despite its ongoing challenges. For conservative group Michigan Freedom Fund, that commitment is misguided.
Read the full story here.
The best of the swamp.