John Fetterman is on the job in his hoodie and gym shorts in the Capitol. Then he attempts to opine on the 14th amendment. Meanwhile, Senator Feinstein doesn't even know where she is. But the Dems will keep them no matter what because they hold the slimmest of margins. Oh a few who lust for her position are making noises.
Meanwhile it's is a full force attack for the exit of the GOP House member Santos for expulsion without the benefit of trial and jury. The DOJ is on it. In just a few months they were able to come up with a dozen or more charges. Meanwhile four years later nothing on Hunter Biden.
House Republicans blocked Democrats' effort to expel scandal-plagued Rep. George Santos from Congress less than a week after the first-term Republican congressman pleaded not guilty to fraud charges.

Democrats pushed a resolution to expel Santos, but Republicans instead voted along party lines 221 to 204 to send the matter to the House Ethics Committee. Seven Democrats voted present, including several on the House Ethics panel to head off concerns of a conflict of interest.
Anyone recall Senator Menendez who ran into trouble in New Jersey? Of course no scalp was required and the DOJ was more than willing to accommodate. 
In a shocking turnaround, the U.S. Justice Department has dropped its case against U.S. Sen. Robert Menendez.
In a court in Newark on Wednesday, federal prosecutors moved to dismiss the corruption indictment against the New Jersey Democrat after a federal judge last week acquitted Menendez and his co-defendant, Salomon Melgen, of seven of the 18 counts against them.
Both were facing a retrial after a deadlocked jury could not reach a verdict in the high-profile case in November.
But now back to our man Fetterman. As promised, Bunk fulfills the promise to follow the man every step of the way.
Love those threads…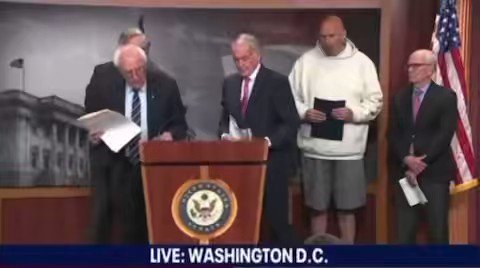 And we can't leave out of gal Feinstein.
Jesse Waters rounds it out with the mayhem occurring in the D.C.scene and it sure is one. Included we get a glimpse and more of Senator Kennedy doing his thing with the nomination of a judge. You know… more of "the thing."
The very best of the swamp.