The US Army is circulating a draft policy that would allow soldiers to move bases if they feel state or local laws discriminate against them on the basis of race, religion, sex, or gender, according to Military.com, citing two sources with direct knowledge of the plans.
Apparently the "woke" military is less concerned about bullets whizzing by the soldier and more about having their feelings hurt. It would seem the army would want to first consider the best location to place the individual for its "readiness" than for their comfort level. They say they want to "Shield service members?" What happens in foreign countries? So LGBT and Trannies no longer will need to serve in the Middle East? Just request a transfer? Where does this end? The word "cater" comes to mind.
The policy would ostensibly sanction soldiers to declare that certain states are too racist, too homophobic, too sexist or otherwise discriminatory to be able to live there safely and comfortably.
"Some states are becoming untenable to live in; there's a rise in hate crimes and rise in LGBT discrmination," Lindsay Church, executive director of Minority Veterans of America, an advocacy group, told Military.com. "In order to serve this country, people need to be able to do their job and know their families are safe. All of these states get billions for bases but barely tolerate a lot of the service members."
…
The Army's consideration of a policy to protect soldiers from discriminatory laws is part of a wider Defense Department campaign to start shielding service members from increasingly divisive laws and rhetoric from state-level lawmakers.
Read More Military.Com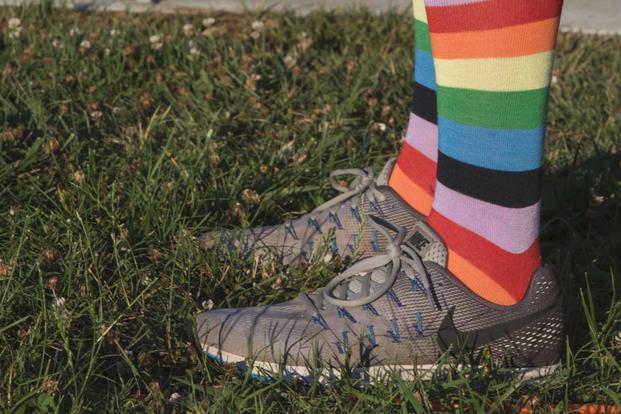 A base member wears rainbow socks during the Lesbian, Gay, Bisexual and Transgender Pride Month Five Kilometer Pride Run at Joint Base Andrews, Md., June 28, 2017. (U.S. Air Force photo by Airman 1st Class Valentina Lopez)
Read the rest of the report here.
"The U.S. Army has added diversity, inclusion and equity to its formation. On Tuesday, the Army announced some major changes to its grooming standards; KDKA's Royce Jones reports." The clip was done last year.
I didn't know the army was a fashion show.
The best of the swamp