Let's see if we can "tie up" a few loose ends with Harris in the Smollett case. Smollett worked on Harris's campaign. It is curious how she responds when asked a question about a Jussie Smollett lynching Tweet she posted.
Now that the Smollett case is winding down, let's take a trip in my wayback machine. Friday and time for something lighter.
Let's follow the dates:
From Senator Harris office:  October 11, 2018
Senate Judiciary Committee Advances Anti-Lynching Legislation Introduced by Harris, Booker, and Scott.
WASHINGTON, D.C. – Today, the Senate Judiciary Committee unanimously voted to advance the bipartisan Justice for Victims of Lynching Act of 2018, historic legislation that would criminalize lynching, attempts to lynch, and conspiracy to lynch for the first time in American history.
The legislation was originally introduced in June 2018 by U.S. Senators Kamala D. Harris (D-CA), Cory Booker (D-NJ), and Tim Scott (R-SC).
"Lynching is a dark and despicable part of our country's history. These were acts of violence, needless and horrendous acts of violence that were motivated by racism. And we must acknowledge that, lest we repeat it," said Senator Harris, a member of the Senate Judiciary Committee. "These were crimes that were committed against innocent people. These are crimes that should have been prosecuted. There are victims and their families that should have received justice and did not. With this bill, we have a chance to speak the truth about our past make clear that these hateful acts should never happen again."
Harris Senate Office Press Release
It's finally official: Kamala Harris is running for president.
She made the announcement on Martin Luther King Jr. Day
Enter one Jussie Smollett:  Jan 29, 2019 –
The Chicago Police Department said it is investigating 36-year-old Empire star Jussie Smollett's report to authorities that he was assaulted early Tuesday morning by two suspects who yelled out "racial and homophobic slurs." Included was a rope placed around his neck.
The claim by now has fallen apart. No need to rehash the details.
Here's the story:
She (Harris) said Smollett was the victim of "an attempted modern-day lynching" and called the actor "one of the kindest, most gentle human beings I know." Harris has also used the Smollett attack to push legislation that would make lynching a federal hate crime.
Reports are that Smollett supported Harris and worked on her behalf. During an appearance at a bookstore in Concord, N.H., a female reporter asked the senator from California if she wanted to amend a tweet from Jan. 29, in which she said Smollett was the victim of "an attempted modern-day lynching" and called the actor "one of the kindest, most gentle human beings I know."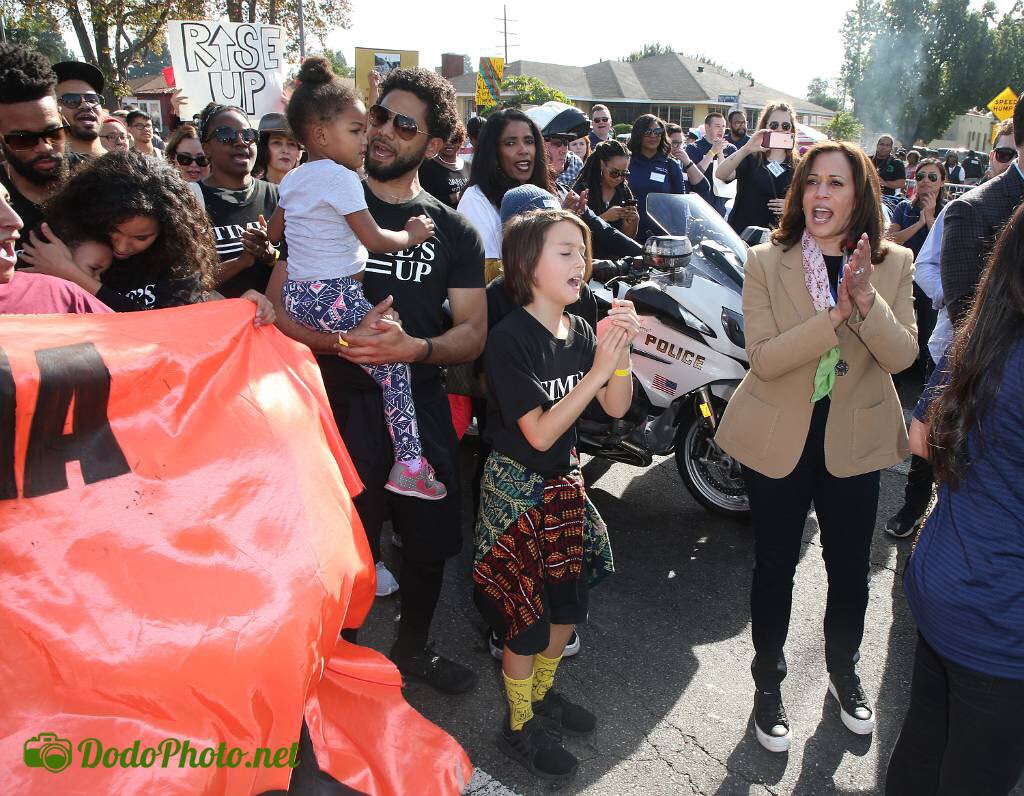 Jussie campaigning with Kamala Harris
Senators Kamala Harris and Cory Booker did jump on the hoax first, claiming it's a "modern-day lynching," just as they were trying to pass their propaganda bill, The Anti-Lynching Act.

Monica Showalter at American Thinker points to a series of tweets by film producer Tariq Nasheed in which he postulates that the two senators were possibly part of the setup. His tweets are available here.

Nasheed believes it goes beyond the two brothers Ola and Abel and Jussie. As he says in his first two tweets, Harris has campaigned with Jussie. He also says the Lynching Act is a favor to certain groups — white LGBTs — and these two senators are funded by them. More Independent sentinel
"Which tweet? What tweet?" Harris asked. As the reporter specified the tweet in question, Harris appeared to look around for a campaign staffer before responding.
The "Tell"
Confused Senator Harris Bumbling Response About Jussie Smollett Lynching Tweet She Posted:
Read more: American Thinker
Jussie Smollett attack: Cook County State's Attorney Kim Foxx recuses herself from investigation
CHICAGO — Feb 19, 2019
Cook County State's Attorney Kim Foxx has recused herself from the investigation surrounding the alleged attack on "Empire" actor Jussie Smollett, her office told ABC News on Tuesday.
"Out of an abundance of caution, the decision to recuse herself was made to address potential questions of impartiality based upon familiarity with potential witnesses in the case," a spokeswoman told ABC News via email.
For more on Foxx and the Obama's –
Michelle Obama's Chief of Staff Tchen refuses Subpoena in Smollett Case
This looks like the typical Chicago collection of best pals. What do Michelle Obama, Tina Tchen, George Soros, Kim Foxx and Jussie Smollett have in common?

Nothing that money can't buy apparently. Yesterday a Chicago judge ordered the court records regarding the sealed Smollett records unsealed.

Who was behind this idea of transferring to the FBI and why did whoever think this would work better than a Chicago investigation? Not known as the bastion of honesty. What is it she doesn't want to tell? Does she really think she can avoid a Subpoena?
Kim Foxx wants to tell you a story   Dec 10 2018
But more than any of that, it is arguably Foxx's zest for storytelling — or more particularly, for telling her story — that has captured the attention of both her constituents and celebrities.
She now counts the rapper Common and singer John Legend as friends, and a while back, when she saw the superstar U.S. senator Kamala Harris across the room at an Emily's List event and went over to introduce herself, Foxx had barely gotten a word out before Harris interrupted and said, "You're Kim Foxx! I've been watching you."
Now isn't that something? The coup de gras
Feb. 14 2019
Senate passes anti-lynching bill in renewed effort to make it a federal hate crime
Washington (CNN)Two competitors for the 2020 Democratic nomination joined forces Thursday in a renewed effort to pass their anti-lynching legislation.
The Senate 

passed the legislation

 from California Democratic Sen. Kamala Harris, New Jersey Democratic Sen. Cory Booker and South Carolina GOP Sen. Tim Scott last year, but the House never took up the measure. On Thursday, the Senate again passed the bill via unanimous consent.
If signed into law, the Justice for Victims of Lynching Act would outline the specific killing of lynching, noting its violent and racist legacy, and add it to the federal list of hate crimes. As Booker's office noted Thursday, the vote followed more than a century of efforts to outlaw lynching that have failed to pass.
Following Thursday's unanimous vote in the Senate, the bill would then go to the House before President Donald Trump can sign it into law.
,,,Booker said they had been working on the bill "quite a bit," and when asked if he felt dynamics had changed in the Senate with himself and other Democrats running against each other, Booker said his colleagues were "sisters and brothers."
Fun facts posts:
Jussie Smollett and mystery BFF 'Nigerian Bros' – one charged before with attempted murder
Court records show that Olabinjo Osundairo was charged with attempted murder in a 2011 stabbing that occurred in the 4200 block of North Ashland. That is less than a block from the home that police raided in the Smollett investigation, where they recovered personal effects, including cell phones, a source said.
 
Olabinjo Osundairo reached a plea deal with prosecutors and pleaded guilty to aggravated battery; he was sentenced to two years of probation and ordered to pay a $674 fine. (Ed: It's Chicago don't forget.)
Finally, Bunk here put on her Miss Marple hat
Did Smollett Subway sandwich foil his perfect crime?
Think about this. The poor fellow Smollett is attacked. Bleach thrown at him. A noose placed around his neck. But bless his heart. Through it all he hung on to his cell phone, but most importantly he hung onto his Subway sandwich. What a guy.
Smollett reported to police that at 2 a.m. on Jan. 29, he was returning to his apartment – a Subway sandwich bag in one hand and holding his cellphone in the other – when two white men wearing ski masks attacked him. He claims they yelled, "This is MAGA country" and other racial and homophobic slurs, tossing a liquid substance on him, later determined to be bleach. Carrying a noose, they placed it around Smollett's neck.
Fighting them off, he escaped. Not only did the courageous Jussie not run off, he never lost his Subway sandwich. What an inspiration to young gay boys everywhere!
The best of the swamp today.