This should clip the wings of those capitalists who need powerful computer capacity. Add regular gamers as well. States putting the brakes and limiting what kind of computer one can have. Falls under "Power Consumption Regulations." Where did this come from? If we needed another example of a previous post The United States Descent Into Madness this is it. California has a special kind of madness considering they are suppose to be the tech capital of the world.
Looks like it's back to this:
"NEC Multispeed EL Computer" by lewong2000 is licensed under CC BY-NC-ND 2.0
Approximately 59 million Americans spanning five states can't buy Dell's high-end Alienware brand desktop PCs "due to power consumption regulations."
When one goes to the Dell Alienware online configurator to buy an Aurora R12 gaming desktop, a special notice appears which reads:
This product cannot be shipped to the states of California, Colorado, Hawaii, Oregon, Vermont or Washington due to power consumption regulations adopted by those states. Any orders placed that are bound for those states will be canceled.
Among other state policies, the prohibition puts Dell in compliance with California's Energy Commission regulations which took effect on July 1. Under the new guidelines, annual energy consumption cannot consume more than 75 kWh/year, and cannot exceed an "expandability score" (ES) of 690, which includes idle power consumption.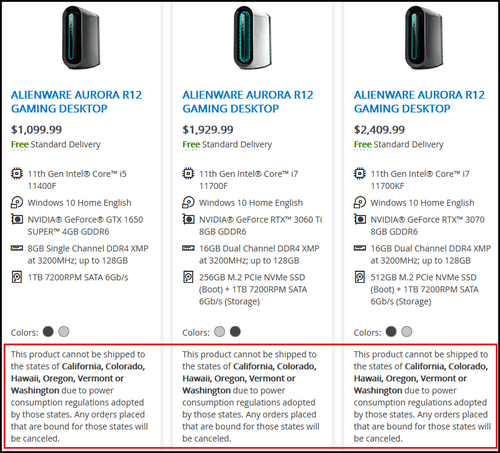 California madness:
Computing Savings in California
Requirements for Desktop Computers, Thin Clients, Mobile
Gaming Systems, Portable All-in-Ones and Notebook Computers
On July 1, 2021, desktop computers, thin clients and mobile gaming systems will be
required to comply with the Tier-II performance, testing, marking and certification
requiremen

ts listed in
Sections 1601
–
1608
 of
California's Appliance Efficiency
Regulations
 (
Title 20
). Portable all-in-ones and notebook computers must continue to
meet the Tier 1 requirements that became effective on January 1, 2019.
On December 9, 2021, computers with high-speed networking capability, multi-screen
notebooks, notebooks with cyclical behavior, and monitors with high refresh rates
will also be required to meet the performance, testing, marking and certification
requiremen

ts listed in
Sections 1601(v)
 –
1608
 of Title 20.
The regulations for these computer types are in addition to those that went into
effect on January 1, 2018 for small-scale servers, high expandability computers,
mobile workstations and workstations.
According to the
2016 Energy Commission Staff Report
, computers and monitors
account for approximately 3% of residential and 7% of commercial energy use, qualifying
them as large electricity consumers. Much of the time, these products are turned on and
consuming electricity but are not actively being used. The Energy Commission recognizes
four different non-active operational modes: short-idle, long-idle, sleep and off-modes.
Some computers consume 50 watts of electricity in these idle modes.
The Title 20 standards are cost-effective, technically feasible and limit the amount of
electricity computers and monitors are allowed to consume when not in active mode. The
standards are designed to reduce energy consumption in active mode without interfering
with performance. The standards set targets for energy consumed in the four non-active
modes based on a computer's "expandibility score" (ES). The ES considers the number
and type of interfaces offered. There are also allowances for additional energy use if the
computer offers additional functionality, including:
• Add-in Cards
• Additional Hard 

Disks
• Graphics Cards
• High Bandwidth System 

Memory
• High-speed Ethernet 

Capability
• Integrated Display
• Refresh Rates Above 300 Hz 

(monitors)
• System Memory
• Video 

Surveillance Cards
• Wired Ethernet or 

Fiber Cards
The base total energy consumption targets are determined by a product's ES, which is
contingent on the type of interfaces present in the system as sold or offered for sale.
 Title 

20
 –
Computers – 2019 Tier-I Standards
California Appliance Efficiency Regulations
A
P 
P 
L 
I 
A
N 
C 
E 
E 
F 
F 
I 
C 
I 
E 
N 
C 
Y 
R 
E 
G 
U 
L 
A
T 
I 
O 
N 
S 
C 
A
L
I 
F 
O 
R 
N
I 
A
E 
N
E 
R 
G
Y 
C 
O 
M 
M 
I 
S 
S 
I 
O 
N
w   
w   
w   
. 
E    
n   
e   
r   
 g   
 y   
C    
o   
d    
e   
A   
c   
e   
. 
c   
o   
m   
The best of the swamp today.
For all the news click on the button.