How does someone (Floyd) die of traumatic asphyxia when at the time of death they have a 97 percent oxygen arterial gas level? How does one kill someone with twice a fatal level of fentanyl? Just two questions I have been asking in several posts I have done on this "whodunnit" that is filled with emotion and few facts that show Chauvin was the cause of Floyd's death.
If guilty of anything it was what he did not do for Floyd rather than what he did do. Most importantly this case has corrupted our legal system demanding that the blood lust of the public be obtained at whatever cost. Meanwhile we as a society watch as the mob takes out another one of the foundations of our society. Our legal system. First the update:
According to a 9-page court document filed Wednesday, May 12, Thao's attorneys, Robert M. Paule and Natalie R. Paule, are accusing Dr. Roger Mitchell, the "former Medical Examiner of Washington D.C.," of leveraging Baker by placing a phone call sometime between May 29, 2020, when Baker released a preliminary statement about George Floyd, and June 1, 2020, when Baker signed his findings as to the cause and manner of Floyd's death. (The full autopsy was released publicly on June 3, 2020.) During the supposed call, Baker is alleged to have said that "he didn't think the neck compression played a part" in Floyd's death. Mitchell is alleged to have suggested that Baker "should fire his public information officer" for issuing the May 29 preliminary statement which said, in part, that the medical examiner's autopsy "revealed no physical findings that support a diagnosis of traumatic asphyxia or strangulation."
"After the phone conversation between Dr. Mitchell and Dr. Baker, Dr. Mitchell decided he was going to release an op-ed critical of Dr. Baker's findings in the Washington Post," Thao's court document alleges. "Dr. Mitchell first called Dr. Baker to let him know."
Mitchell is alleged by Thao's legal team to have said the following to Baker in a subsequent conversation:
[Y]ou don't want to be the medical examiner who tells everyone they didn't see what they saw. You don't want to be the smartest person in the room and be wrong. Said there was a way to articulate the cause and manner of death that ensures you are telling the truth about what you are observing and via all of the investigation. Mitchell said neck compression has to be in the diagnosis.
…….
Thao's defense attorneys argued a connection between the alleged coercion and Baker's actual testimony in the trial of co-defendant Chauvin. From their motion:
During Dr. Baker's testimony in the case of State v. Chauvin, Dr. Baker testified to the
following:

a.  That he conveyed to the State on May 26, 2020 in a meeting that the autopsy of
Mr. Floyd showed no anatomical evidence of asphyxiation.

b.  That he previous[ly] testified under oath in other proceedings regarding the death of Mr. Floyd.
For the full read go to Law and Crime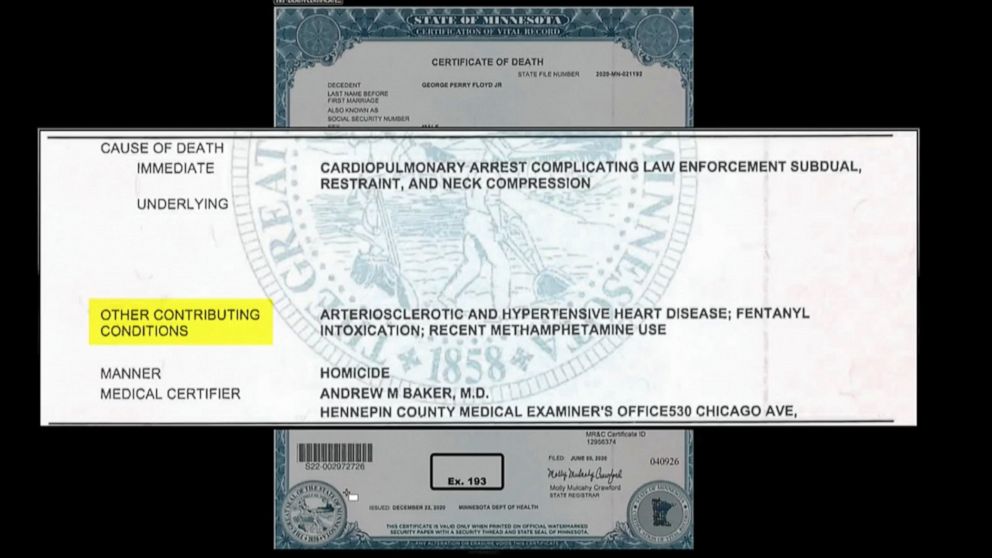 For more of the details check out my earlier posts:
April 21, 2021
What did we learn? That  passing counterfeit money is not a crime. Maybe a misdemeanor but nothing that the police should/would bother themselves over.
That twice a lethal dose of Fentanyl with assorted accessory drugs on board a man dying means nothing.
That  substantial heart disease including a 90 percent blockage could not have played a roll.
That the police officer charged named Derek Chauven never was offered a defense. At most a forensic pathologist. The Medical Examiner who actually was a defense witness in truth. The prosecutor who brought in outside forensic pathologists to discount their own Medical Examiner.
The dream team prosecutors were not from the prosecutor's office but outside attorneys offering their services pro-bono with what appears to have been unlimited support resources. All save one who played a bit part so was reported.
April 26, 2021
A chilling turn is taking place with the Chauvin Murder Trial. A witness for the defense will have the full weight of the Maryland Attorney General's office bear down to attempt to crush him. They are attempting to discredit him, dishonor him so that there will be few future defense witnesses willing to offer testimony in unpopular cases? For the remaining police officers involved in the Derek Chauvin case, the message is clear. Defense witnesses will be few and far between.
Even worse we learn 431 Doctors from around the country chimed in to the AG… "conclusions were outside the bounds of accepted forensic practice and all of his previous work should be questioned." Really? Did they watch the full trial? Did they read the autopsy and read the testimony at trial? I did.
April 30, 2021
Whatever happened to double jeopardy? And now they will put Chauvin through another trial? No doubt the Feds will make sure he gets a "hanging judge."  One thing is for sure, no one will be willing to be a defense witness. That is the lesson that the government is giving.
The very basis of a murder trial is to present rebuttal to the charges. How many times have we seen opposing Forensic Pathologists duel it out… famous ones at that and highly paid.
And that is the best the swamp has to offer today.