I am confused. Washington D.C. is rattling again with Russia Russia Russia over a "leak" about Russia paying a bounty on U.S. soldiers. What am I missing? Isn't war suppose to be about killing one another? Didn't we run this scenario once before back in 2010. Let's see who was President then? Hmmm. I don't recall everyone having their knickers in a knot and how Obama must have Iran pay. Instead Iran got a boatload of cash.
msnbc.com staff and news service reports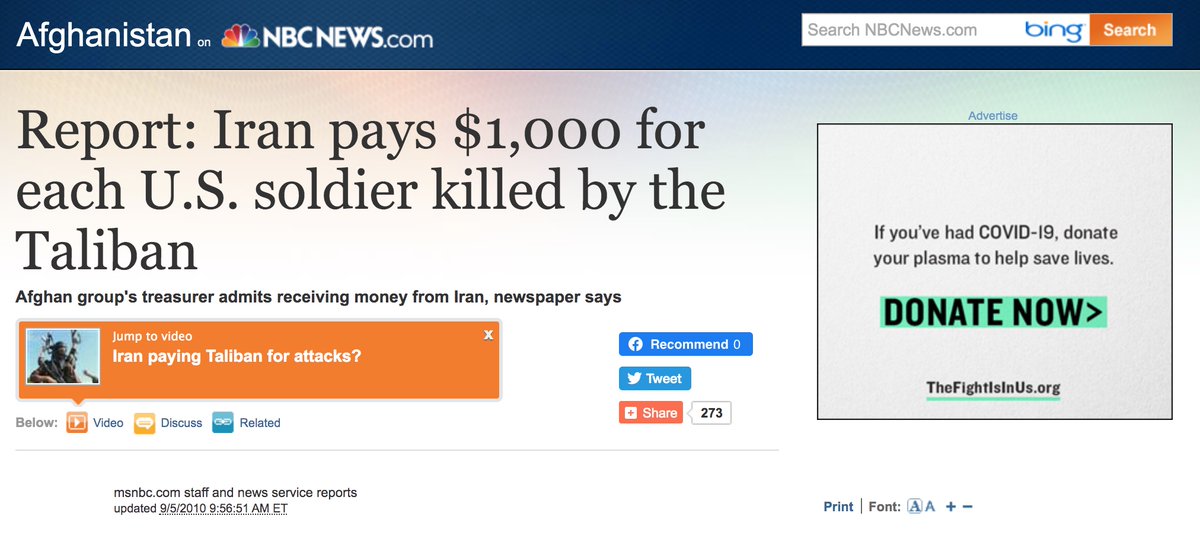 Iran is paying Taliban fighters $1,000 for each U.S. soldier they kill in Afghanistan, according to a report in a British newspaper.
The Sunday Times described how a man it said was a "Taliban treasurer" had gone to collect $18,000 from an Iranian firm in Kabul, a reward it said was for an attack in July which killed several Afghan government troops and destroyed an American armored vehicle.
The treasurer left with the cash hidden in a sack of flour, the newspaper said, and then gave it to Taliban fighters in the province of Wardak. In the past six months, the treasurer claimed to have collected more than $77,000 from the company.
The Sunday Times said its investigation had found that at least five Kabul-based Iranian companies were secretly passing funds to the Taliban.
The newspaper's correspondent, Miles Amoore, said he met and interviewed the treasurer, who he said had been an illiterate farmer who was taught to read and write, plus basic accountancy, by the Taliban last winter.
'For jihad'
"Iran will never stop funding us because Americans are dangerous for them as well. I think the hatred is the same from both us and Iran. The money we get is not dirty. It is for jihad," the treasurer told Amoore.
In addition to the $1,000 bounty on U.S. troops, the unnamed man said Iran paid $6,000 for the destruction of a U.S. military vehicle. From.  
NBC News
Notes from September 2010 clip:
A report in the UK's Sunday Times alleges that an unnamed man called the "Taliban Treasurer" has received over $70,000 dollars in payments from the Iranian government as a bounty for the attacks carried out against American forces in Afghanistan.
Has everyone forgotten when the U.S. was paying the Mujahideen to kill Russians? Or when Obama, Hillary and Panetta were paying al-Qaeda to kill Libyan's and Syrian army?
Everything just fine in the swamp.