Interestingly, – Romney's 2012 national security adviser sits on the board of Burisma. Just who in the world is one J. Cofer Black?
Why would Mitt Romney need a retired CIA spook as his national security adviser during his run for President? Why would Burisma want an old CIA spook on its Board?  Blackwater ring a bell? Someone who has about as much experience in energy as Hunter Biden?
The mystery. Yesterday I touched on Mitt Romney, Burisma and his demand for testimony from his BFF John Bolton.
John Bolton – pocketed $115,000 from Ukraine oligarch, Clinton Foundation donor
but I digress.
Cofer Black served on the board of Burisma, a Ukrainian gas company that was being investigated for corruption. Black served with Hunter Biden, the son of former VP Joe Bidan; the Trump White House has relentlessly called for investigation into Biden's role at Burisma, while completely ignoring Black's mysterious role on the same board.
Biden was appointed for his name; Black has a wealth of knowledge and experience in covert operations and counter-terrorism as the article explains cited below.
Who was a greater risk to America's safety and security? And why is the public left in the dark about this matter?
Cofer Black was a former Vice Chairman of Blackwater (2005–2008), he resigned in 2008 after learning about Blackwater's illegal payments to Iraqi officials. After 26 years of service to the CIA, Cofer Black today now works in the private sector.
For the full back story check out the link below.. ran into a pay wall.
Cofer Black served on the board of Burisma a Ukrainian gas company that was being investigated for corruption
The Looming Shadow Of The CIA, Cofer Black
Adam Fitzgerald
Check out the link at the top of the above link for the full history of this operative.
Now read this from Thomas Lifson via The American Thinker
Well, this is certainly an odd coincidence! In fact, when you dig in, you find an amazing series of coincidences. If you believe in coincidences when the CIA is involved, that is.
Mitt Romney's national security advisor in his 2012 campaign — a career CIA spook who rose to its top levels — sits on the board of directors of Burisma, the Ukrainian gas company that formerly paid Hunter Biden $50k a month despite his complete lack of credentials or qualifications.
Back on October 6, 2011 presidential candidate Mitt Romney proudly announced that Joseph Cofer Black (listed as "Cofer Black") was among the people chosen as "special advisers"
…to advise Governor Romney on foreign policy strategy, defense issues, intelligence matters, counterterrorism, and regional policy. These advisers will assist Governor Romney as he presents his vision for restoring American leadership in the world and securing our enduring interests and ideals abroad.
Mr. Black brought to this role his extensive background at the CIA, which he joined in 1974 and trained for covert operations. He rose rapidly through the ranks, becoming Director of the National Counterterrorism Center from 1999-2002. Coincidentally, this was the time in which Al Qaeda planned and carried out the 911 attack without hindrance from the counterintelligence apparatus of the intelligence community. But Black was not penalized, he failed upward, being appointed Ambassador at Large and Coordinator for Counter-terrorism by President George W. Bush in December 2002.
And in yet another amazing coincidence, Black was succeeded in his job as Director of the National Counterterrorism Center by John Brennan.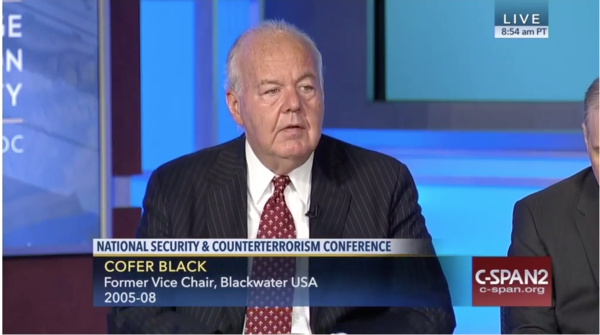 Cofer Black left the CIA in 2006 (does anyone ever completely leave the CIA after being a spook?) to join Blackwater, the huge contractor for services related to military and intelligence action, where he served as vice chairman until 2008. After illegal Iraqi payments were discovered.
Burisma Board: Joseph Coffer Black third from the left.
So many coincidences.
Still more oddly coincidental is the background of Mitt's adviser deep in the CIA, part of the intelligence community that has "six ways from Sunday" in foiling a mere president who might oppose them, according to Chuck Schumer.
Let's do a flashback now that we know what we know.
President Elect Donald Trump sent a tweet on January 3rd 2017. The following is US Senator of NY Chuck Schumer's response. That "the intelligence has 6 ways to Sunday of getting back at you [Trump]."
Chuck also stated that Donald was being very dumb to treat the "intelligence community" the way he was.
Dumb? Or was he willing to try and take them on?
Sept 19, 2019 | Phil Mudd – "I am about ready to blow a gasket." He nails it.
During an interview with CNN's Chris Cuomo, Mudd, a former FBI and CIA official, responded to a report from The Washington Post about a mysterious whistleblower complaint that involved a call in which Trump made a "promise" to his foreign counterpart. Story ends at about 3:35 on the clip then moves on.
Hint: Want to know why this will not go anywhere?
The Intelligence I.G. Atkinson – another plant by the Deep State
That is why the Senate will not vote for witnesses…does anyone think for one nanosecond the GOP or Dems want any of this to come to light? They will fold like cheap suits unless they intend to pull the kill switch and end our Republic.
Other than that, all is well in the swamp.
For the best in conservative news.