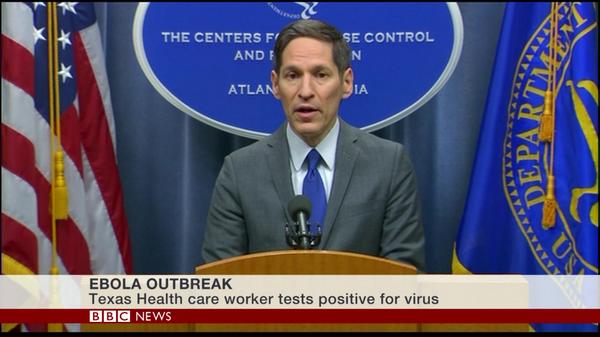 #Ebola: "The fact we don't know of a breach in protocol is concerning, because clearly there was" – head of @CDCgov
UPDATE:
Obama and his absurd comments. What more is there to say. Rest easy friends. Everything going as planned. FEMA camps are at the ready. Yes, bring on more of these infected Africans over. Don't close the borders.
"This is not an easy thing," Cohen said. "Keeping track of large numbers of people, taking their temperature twice a day, making sure they don't … leave town, all of that is a lot of work." (And I am sure the military will be able to do it.)
See also:
Via Guardian:
A Texas healthcare worker who provided care for Thomas Duncan, the first patient to be diagnosed with Ebola outside Africa, has tested positive for the deadly virus, officials have said.

The worker at Texas Health Presbyterian hospital in Dallas reported a low-grade fever on Friday night and was isolated and referred for testing, the state's department of health services said. The preliminary test result was received late on Saturday.

The unnamed worker had provided care for Duncan, who died on Wednesday after being diagnosed with Ebola last month, while in the US.

Dr David Lakey, commissioner of the department of health services, said: "We knew a second case could be a reality, and we've been preparing for this possibility. We are broadening our team in Dallas and working with extreme diligence to prevent further spread."

Health officials have interviewed the patient and are identifying any contacts or potential exposures. People who had contact with the healthcare worker after symptoms emerged will be monitored based on the nature of their interactions and the potential they were exposed to the virus, the department said.